Fruit Frenzy Slots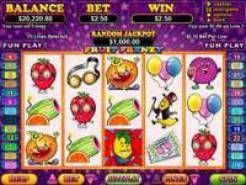 Current Jackpot
$2,972.85
Play Now
Fruit is hardly an uncommon sight in online slot games. However, if you think the fruit involved in this game will be the usual ones you would find on the reels, think again. Instead of appearing in their normal fashion, you will see they all have faces. They're watching you, some through glasses, and some are even chowing down on popcorn! Yes, this is that sort of game…
How many reels and lines are in play?
This is not a simple three-reel slot, as there are five reels here instead. You also get 25 lines to place your preferred bets on.
What can you bet on the slot?
There are plenty of coins here to choose from. Want to play a quarter to cover every line? That's possible with a cent on each one. Five dollars is the value of the coin at the other end of the spectrum.
Does Fruit Frenzy have special icons?
There are two scatters in this game, and both are represented by a word. One says FRUIT, and the other says FRENZY. Both attract scatter payouts, but the FRUIT ones are richer. Meanwhile, if you spot a pineapple anywhere, you'll have spotted the wild. This doesn't replace the two words mentioned above, but it is responsible for awarding the game's biggest prize. This is a huge 10,000 coins if you get five on a line you've placed a bet on.
Can you reach one or more bonus rounds?
There is one here, and it's a goodie. The scatters don't unlock it though, and neither does the wild. You must simply get a five-icon winning line to unlock it. That means you get a nice prize before you start the feature too – known as the Daredevil feature. You are given three shots at getting a strawberry through a rockmelon. Yep, you read that right! Shoot the strawberry through the melon and you are awarded some free spins. The better you do, the more free games you get. All prizes will be doubled in these games, with scatter wins tripled from their usual values.
Download and play Fruit Frenzy now!
We bet you've never played a bonus like this before. Let's hope you are good at aiming strawberries through melons, because it could bring you some very rich free spins if you are. Let's hope for the best, shall we?