Egyptian Gold Slots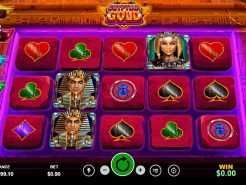 Current Jackpot
$1,299.10
Play Now
Egyptian Gold is a cool new slot game that looks promising at first glance, thanks to all its potential bonuses and beautiful graphics. We decided to fully test this slot to determine if it's worth playing or not, and below are our results. Learn all about this slot game and its features by reading our review below.
Created by Realtime Gaming
This slot is an RTG creation, and it's just one of the hundreds of highly-rated and entertaining slots. With so many different gambling options to choose from, it's exciting to play at a Realtime Gaming casino. This slot looks promising, just like many of the other options offered by the software company.
Randomly Win Four Different Progressive Jackpots
There are four different progressive jackpot prizes worth tens or hundreds of dollars. These prizes increase in value as you play, and they can be unlocked at any time. To trigger these special perks, you just need to get a lucky spin. The random scarab feature can trigger the jackpot pick round, and when that happens, you'll be tasked with opening boxes until you get three matching jackpot symbols. The symbol color determines which of the jackpots you'll win.
Themed after Ancient Egypt
This slot game has an Ancient Egyptian theme to it, like many others that we've tested in the past. What makes this slot experience better than the others is its style and range of features. There are pharaohs, ancient gods, ankhs, pyramids, loads of gold, special symbols, and more that give this slot an authentic theme. The game looks very nice, and we prefer it to many other Egyptian-themed slots for this reason.
243 or More Paylines
This slot doesn't have official paylines and instead has cluster patterns you can win in. The slot offers 243 possible ways to win when you first start playing. It's possible to more than double your chances of winning to a stunning 576 ways to win with some of the bonus features in this slot. This is when some of the most exciting prize-winning combinations are likely to occur.
Adjust the Speed and Set Autoplay
Like most other RTG slot games today, this one has a simple autoplay feature and simple speed settings. Press the autoplay button to the right side of the control panel and choose the number of spins you want in order to activate this feature. Once it's activated, the game will spin for you, and there's nothing else for you to do but sit back and relax. The speed settings can be adjusted by pressing the lightning bolt symbol. Swap from a single lightning bolt to two lightning bolts to go from normal to fast speeds.
Random Scarab Features
The special scarab feature is what makes this slot game worth playing, in our opinion. This feature can trigger at any time, and when it does, it gives you one of five different bonus features to enjoy. You'll get access to stacks of wilds, small added wilds, jackpots, re-spins, and more. This feature triggers frequently, so you should get an opportunity to test all these features over time.
Random Wilds
The scarab feature can give you full reels of random wilds and just a few scattered wilds throughout the reels. It's also possible to get scattered wilds and full stacks of wilds, depending on the wild feature you unlock. Either way, you are likely to get loads of wild symbols from the random scarab feature.
Magic Re-Spins
Another common feature of the scarab bonus is the re-spins perk. In this feature, you get additional spins and increased odds of winnings thanks to little perks like additional wilds. You'll win more regularly than you normally do from this feature, and that's another reason to get excited when you trigger the random scrabs feature.
The Jackpot Pick Feature
The last feature you can get from the random scrab perk is the jackpot pick feature. This special bonus round has you pick from a cluster of different boxes. Keep selecting boxes until you get three matching-colored symbols. The color of the symbols determines which of the progressive jackpot bonuses you win, so choose wisely!
The Free Game Pick Bonus
Along with all the different random scarab bonus rounds, there's also a free spin bonus round. To trigger this round, you'll need three bonus symbols. Get the symbols and then choose whether you have 5, 8, or 10 bonus spins. You'll get different perks along with the free spins, including expanding wilds, reels of wilds, double prize payouts, and more. The better perks are offered for, the lower number of spins, so you will have to choose which perk combination sounds best to you with this special bonus.
Demo the Slot Free
If you aren't sure whether this game is right for you or not, you can test-play it without spending any money. The game has a demo mode that's available to everyone. Load the slot in demo mode, and you get access to all the game's features without risking your money. If you decide you love the slot and you want more time with it, you can move on to playing with real money whenever you like and play for actual prizes.
Easily Play for Cash Prizes
When you get comfortable with this slot, you can swap to playing for real money whenever you like. As long as you have a up-to-date casino membership at a Realtime Gaming casino and you have a funded account, you can play for real money whenever you like. Choose a wager amount that you're comfortable with and begin playing.
Win up to 50,000 Coins
There is real winning potential offered by this game if you're fortunate enough as you play. Gamblers can win up to 50,000 coins in a single spin while playing this game. That's something to get excited about, and it's certainly something you should hope for while you spin.
Works on Mobile Too
Mobile gambling is convenient, and it's the way that many gamblers prefer to play. If you want to play from more locations, you can conveniently do that with your mobile phone or tablet. The game looks and functions the same on a smaller screen as well.
An Honest Rating
We spent hours testing this slot, and over that time, we decided to rate it a 4.7 out of 5.0 stars. This high rating is thanks to the powerful bonuses, the ample winning opportunities available, and impressive graphics. Between all those different features together, there is a lot to like about this game overall.