Princess Warrior Slots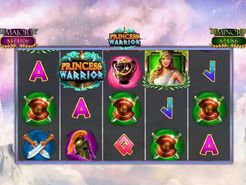 Play Now
Most stories about Roman Warriors focus on men, but Princess Warrior is a slot that focuses on the story of an intense woman warrior. The slot blends beautiful graphics with powerful bonus rounds to create something compelling. Read through our full review to learn all about the game and what you can expect when you try it yourself.
Designed by Realtime Gaming
Realtime Gaming or RTG is a top-rated software company that designs hundreds of different casino games. The company is known for making some of the most revolutionary slots, table games, and more, and it's responsible for this game as well. Deciding to play at a casino with this slot gives players access to hundreds of other games as well. Enjoy the wide selection of games that come with any compatible casino.
Play for Two Random Progressive Jackpots
This slot game has two different progressive jackpot prizes available for players to try for. There's always a chance that you'll trigger either of the two jackpots when you play. Spin, and you could win the Minor or Major jackpots. The prizes are credited immediately and
Themed after a Fierce Princess Warrior
This slot is themed after an intense Roman princess warrior and comes complete with beautiful princess characters, Roman soldier helmets, crossed swords, hordes of treasure, and more. The game looks beautiful with cascading waterfalls and a brilliant sky, and it's nice to look at.
40 Fixed Paylines
This slot game comes with 40 set paylines for you to play over. These lines increase your chances of winning, but you'll have to place a wager on each of them to spin the reels. Having to wager on all 40 lines raises the minimum wager higher than what many other slots ask for, which will be an issue for some gamblers.
Just Okay Wagering Options
We weren't impressed by the wagering options with this slot. The game has a minimum wager of $0.40 per spin, which is higher than some low-stakes players will want to spend per spin. The maximum wager limit is just $20.00 per spin, which isn't high enough to satisfy many high-rollers out there. The upper and lower limits are pretty limiting, and there isn't a good range of betting options to choose from either. There are just a few different wager settings to choose from when deciding how much to bet per spin.
Basic Autoplay and Speed Adjustments
Gamblers have simple autoplay and speed adjustment settings they can use to change how the game operates. The lightning bolt symbol is used to change between normal and fast play modes for this game. The autoplay selector to the right of the spin button is used to change between infinite spins and a set of between 5 and 100 spins. When using autoplay, the game will go through all the spins that you set without stopping if funds are available. Both features are simple to use, and even new players can learn how to use them rapidly.
A Low Value Paytable
There are some slots that offer thousands of credits for a single prize payout, but this slot isn't one of them. Instead, the best wins are in the hundreds of credits. Players that manage to unlock a 600 credit prize payout should consider themselves lucky, and most wins will be smaller than this. The slot pays out frequently, though, so gamblers can keep the wins rolling in, even if they're smaller in size overall.
The Princess Warrior Feature
Whenever a full stack of wilds appear on the central reel, one of the many different Princess Warrior features is triggered. Players are awarded with instant prize multipliers, random wilds on all the reels, full reels of wilds, or a powerful instant prize payout. This bonus feels random whenever it's triggered, and it results in some powerful perks as well.
Pick from Four Different Free Spin Perks
There are four different free spin bonus rounds that gamblers can choose from when they get three or more scatters. Get these symbols, and you'll get to choose from free spins with multipliers, wilds, and other enhancements to improve your experience. Choose the perk combination you like best, and then start going through the free spin rounds. It's important to note that the Princess Warrior feature isn't available during any of these bonus rounds.
Test Drive the Slot Free
It's possible to test this slot game without spending any money on it. The game works in a demo mode with free money for testing purposes. To learn more about the perks and features of this slot, you can try them all out in demo mode. Spend time test-playing the slot to determine if you like it and then move on to playing with real money later on.
Play with Real Cash Simply
It's easy to play this slot game with real money as long as you have a valid casino account. Play at any Realtime Gaming casino and load this game in standard mode. While in this mode, you can wager the full range of bet amounts with real money. Play for the different prize payouts from this game and enjoy the full range of features in this slot as well.
The Best Wins Come from Combinations
There are many different chances to win big while playing this slot, but the best wins all come from combinations of prizes rather than single prizes. The top fixed prize payouts aren't that large with this game. Instead, you'll be playing for a mix of different wins through the free spin bonus or just several lucky spins in a row. Either way, you can win big while playing this game if you have a streak of winning spins. Play for the free spin bonus, and you could walk away with a nice prize payout as a result.
We Don't Have an Exact Value
We enjoyed our time testing this slot, but we don't have exact information on the value of the game. It's impossible to say whether this slot is a good value or not for players because we don't know what percentage of the money taken in is paid back out to gamblers using this slot. We felt like the game was generous during our play session, but the players most concerned about getting a good value for their money should keep looking at slots.
Take this Game on Mobile
Mobile play is fully supported on this slot, and you can easily play on smartphones and tablets of different types. The game runs on Android and iOS devices and should work on most Windows Phone devices as well. Players that want to enjoy the ultimate in gambling freedom can take this game and others from the casino with them wherever they like, thanks to powerful mobile support.
Rating the Slot
We spent hours testing this game and decided to rate it a 3.7 out of 5.0 stars in the end. The powerful bonus features of this game make it worth playing, and the beautiful graphics make it more enjoyable as well. We weren't impressed with the wagering options or the maximum prize payouts offered by this slot, though. Gamblers that like frequent wins and exciting bonuses will have fun, though. Princess Warrior is an exciting new slot game from Realtime Gaming that's worth playing at least once. Many gamblers have fun with this game, and we're not surprised at all. If you're interested in a slot with regular prize payouts and very powerful bonus features, this is a good option; just know that it has issues as well.