Realm of Riches Slots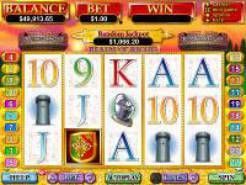 Current Jackpot
$3,302.42
Play Now
Realm of Riches is a high quality fantasy-themed slot game with knights, castles, shields and more. It looks and plays like a medieval fantasy and can be a lot of fun to the right people. Read on to learn about the full feature set of this slot game and find out why some people decide to stick with this slot over the long-term.
Bet on the Fantasy
Before you can dig deep into this fantasy-themed slot game and become a fierce warrior fighting for the very best slot prize, you need to place your wager. This is the most important step with this game, and it's important to put down a bet that's comfortable. Choose a bet that's too low and it won't be worth much when a big prize is unlocked. Choose one that's too high and you could be out of cash before the big prize ever comes around. We were impressed with the range of bet options available from Realm of Riches. On the low end it's possible for players to bet as little as $.01 on one of the 20 paylines per spin. At the high end players can bet $5.00 on each of the 20 lines, for a total of $100 per spin. Players are free to pick and choose anywhere in that range that's comfortable for them.
High Payout Wins
The wild symbol in this slot game also serves as the highest paying symbol. Five of them will leave you with 10,000 coins to enjoy. That's a top prize win of up to $50,000 during standard rounds of play. The Queen is the second most valuable with 5 of them being worth 2,500 coins or up to $12,500 with a maximum bet in place. The scatter is the lowest paying of the rare symbols with a 50x payout for five of the symbols on the reels.
Random Jackpot
In Realm of Riches the random jackpot can trigger when you least expect it. Just playing through the rounds and trying to unlock some good prizes can be enough to unlock that random jackpot. The amount that is paid out when it's finally unlocked changes with every single turn. It goes up each time someone plays the slot game, growing to thousands and thousands of dollars no matter what level you are betting in this slot game.
Expanding Wild Free Spins
With two or more scatter symbols there's a chance to unlock between 10 and 25 free spin rounds in Realm of Riches. During these rounds there isn't a multiplier on wins like there is with some slot games, but the wilds do expand across their entire reel. That means it's easy to get combination wins during free spin rounds of Realm of Riches. Realm of Riches doesn't have the greatest graphics, but it does offer a capable set of features. As an experienced online gambler there's a lot to like about this slot. It pays out good solid top jackpot prizes, has a progressive jackpot element, features a free game round and offers plenty of ways to win every single time.