Trigger Happy Slots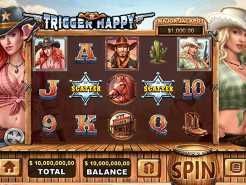 Current Jackpot
$4,645.02
Play Now
Trigger Happy is a beautiful Wild West themed slot game that features a pair of lovely cowgirls. These cowgirls are the key to a few special bonus rounds, and they add a bit of sex appeal to the game as you play. It's not just the cowgirls that make this slot worth playing though, the creators went to a lot of trouble to create a top-notch slot experience complete with multiple bonuses, thrilling prize payouts and more for you to enjoy.
About this Slot
Trigger Happy is a Wild West themed slot game that comes complete with a pair of beautiful cowgirls. The game features scatters and wilds, along with a good mix of free spin bonuses and random jackpots to give you something to look forward to each and every time that you play the slot.
Trigger Happy Software Developer
Realtime Gaming is responsible for the software behind Trigger Happy and they're a top-tier software company known for producing many quality games. That's precisely why Trigger Happy works so smoothly and it offers a good mix of features. If you enjoy Trigger Happy, you'll likely enjoy other titles from Realtime Gaming as well.
Testing in Demo Mode
If you want to get familiar with the different features offered by Trigger Happy you can get comfortable with the slot game by testing it out in demo mode. This enables you to play the slot without spending any real money, and it makes it very easy to get started with the game without the risk involved with real money gambling. Just click the slot game and press play and the demo will start up even if you aren't signed into a casino account.
The Trigger Happy Theme
This slot has a pretty obvious Western cowboy theme to it. The cowgirls, sheriff's badge, boots with spurs and the cowboy himself all contribute toward the theme. RTG does a nice job developing the theme for the slot, which makes the game more enjoyable to play in our opinion.
Cool Game Design
We were impressed wit the look and feel of this slot game. Even the pretty standard card symbols are themed after the old west with a natural wood grain and a metallic border. It's obvious immediately what the theme of the game is, and that makes it a bit more enjoyable to look at.
The Trigger Happy Slot Type
Trigger Happy is a progressive jackpot video slot game and it offers some exciting prize payouts as a result. The game is fast-paced and gives you lots of different options to work with to customize your play experience more. If you're interested in finding an exciting slot game, there are many features you'll likely enjoy about Trigger Happy overall.
Adjustable Paylines
There are a total of 30 paylines in this slot game and you are free to adjust the number of active lines up or down until you reach a comfortable level. From there you can pick the amount you want to bet on each line to get your total wager up to a reasonable level. It will take some adjusting, but with time you can get your wager at the right level for maximum fun without risking too much or too little.
A Good Range of Betting Options
With a maximum wager amount of $30.00 per payline, you can wager a massive amount over the 30 paylines of this slot game when getting it ready to enjoy. Wager as little as $0.01 per spin, or turn your wager all the way up to an impressive $900.00 per spin and go all out with this slot game!
A Decent Paytable
The best win that you'll get from this slot is 1,000 times your line bet, which isn't too bad if you ask us. There are several other decent paying symbols available in Trigger Happy as well, giving you something to look forward to every single time you spin the reels as you play.
Taking Advantage of the Bonus Round
There's a special lucky feature trigger that can triger at random any time that you are playing Trigger Happy. If this feature goes off you will either be taken to the main free spin bonus round described below, or a Lucky Games feature that rewards you with between 5 and 10 free games. During those free games you'll have a slightly increased chance of winning exciting prize payouts from the slot.
Utilizing Free Spins
One of the most effective ways to achieve impressive wins in this slot game is to make use of the free spins bonus round. You need a total of three or more of the badge symbols to initiate the round. Once you're in the bonus round you'll have a minimum of 7 free spins as well as some added bonuses. You will be tasked with choose the red haired cowgirl or the blonde one, and that choice determines what sort of bonuses you can expect throughout the free spin rounds. The girl you choose will become a 2x wild throughout the round, plus give you added bonuses. During your free spins if you choose the blond she will show up on the entire 4th reel or the 4th and 5th reels giving you a bunch of 2x wilds to help you win more frequently. If you choose the redhead, she will either act as an additional scatter, or she will take up the entire 1st reel as you play the slot game. Not to mention that getting three or more scatter symbols at any time during your free spins will reward you with an additional 5 free spins to keep the fun going.
What is the RTP?
Since Trigger Happy is a brand-new online slot game it isn't clear what the RTP is just yet. The standard RTP for slots of this type is around 96% so it's likely that the game is somewhere around that value as well, making it a good option for gamblers looking for a game with decent odds.
Rating the Game
Overall we rate this slot game a 4.0 out of 5.0. The game is fun to play, it has beautiful graphics and a solid theme, and it offers prize payouts that make playing it worthwhile. Between all those different factors there is really no reason not to give this game a playthrough or two.
Big Winners
While the big payouts from this slot game are only worth 1,000 times your line bet, it's possible to win several of these payouts during the same spin, opening up the opportunity for some pretty hefty wins. Not only that, but there are three progressive jackpots that are given out at random, increasing the total number of big winners that play Trigger Happy.
Free Play Fun
It's a lot of fun to play Trigger Happy for real money, but you certainly don't have to do that. It's entirely possible to enjoy the slot game without wagering any real money at all. You can play the game in demo mode for free using play money. This is a good way to become familiar with the slot game and to start learning the different features that it has to offer you. You won't have a chance to win any cash prizes until you begin wagering real money though.
Real Money Betting
If you want to experience the full thrill of Trigger Happy you need to play it with real money. The slot game offers so much when you wager with real cash. To do this you need to join up with a casino that offers the game and complete your initial deposit or play with a no-deposit bonus. Do that and you'll be experiencing the thrill of the game in no time.
Mobile Play Support
Major slot titles today are often offering mobile support to players, making it possible to gamble while on the go. If this is something you're interested in, you'll thoroughly enjoy Trigger Happy. This slot game runs smoothly on Android, on iOS and other mobile devices, and you don't have to download any sort of app to play it that way either. It's really convenient to get started with. Trigger Happy is a fun slot experience with a good blend of features that you would expect from a brand new slot game today. If you like cowboys or a Western theme, there is a lot for you to enjoy about this slot game, and we'll be honest the pretty girls don't hurt either! The slot offers several jackpots, multiple bonus features and some exciting prize payout opportunities.