Fantasy Mission Force Slots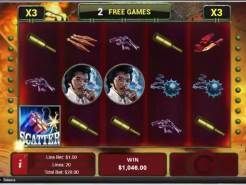 Current Jackpot
$8,235.00
Play Now
If you're a fan of the cult film Fantasy Mission Force released back in 1983, you'll love the Realtime Gaming slot designed after it. It's called Fantasy Mission Force and is designed to bring out the very best characters from the film, with movie-inspired bonuses and prize payouts that are worth looking into. As fans of the old film we were eager to test out this online slot, and the results might surprise you a bit. Read on to learn what we did about this online slot game, and find out whether it's worth a play through or not.
Decent Bet Options
Betting in Fantasy Mission Force slots is a simple affair. Choose from 1 to 20 lines and then bet between $0.01 and $1.00 on each of them. That gives you the ability to bet up to $20.00 per spin, but you can bet much less than that if you aren't comfortable with larger bets. This doesn't give a huge betting range that some players are looking for, but it's decent enough to be enjoyable to use.
Win Big
In Fantasy Mission Force it's possible to win as many as 50,000 coins on a single spin of the reels. That's a huge top prize and much larger than other slots that you'll find out there. With a maximum bet of $1.00 you could win as much as $50,000 while playing this slot game with enough luck. There's also an impressive progressive jackpot that's worth thousands that could also be won with enough luck on your side. We were impressed by the sheer amount of money that can be won from this slot game.
Dynamite Free Games
There's a special dynamite free spin feature that awards you with 7 free spins and triple prize payouts. This feature is unlocked by getting the dynamite symbol on the first reel and the wild on the last. It's simple to unlock and really helps up the top prizes that can be paid out.
Another Random Jackpot
Random jackpots are becoming really popular with online slots lately. This slot game has a random progressive jackpot that's triggered after certain turns of the reels randomly. There is no exact pattern to this jackpot and it can be triggered at any time, so spin and hope for the best while playing. This gives players another chance at winning, and helps to keep the excitement alive with payouts higher than $5,000 possible.
Mobile Support
Not only is this slot game coming to computers for online gamblers to try out, it's going to be completely supported on mobile devices as well. That means that gamblers can easily enjoy this slot anywhere that they like as long as there is a decent internet connection. Enjoy spinning the reels in coffee shops, at a friend's house or just around your own home with Fantasy Mission Force Slots. Fantasy Mission Force slot is a good solid online slot game based on a fun theme. It's a nice looking game, but more importantly it comes with some good solid features. There's a lot of potential money on the line while playing through the rounds of this slot, and that keeps things very exciting overall.