Football Frenzy Slots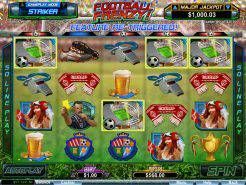 Current Jackpot
$1,735.39
Play Now
Football in Europe is the most played of all the sports and it is also the most viewed with fans from all over the world watching the different leagues. The game of football is often confused in America where it is called soccer. Playing football is fun and so is watching it as can be seen in this five reel fifty payline slots game that has free kicks, free spins and a random progressive jackpot that can be won. Players may try out the game in fun mode before placing real money bets and the player can choose the striker mode or the lucky mode. There is not much difference in the two modes apart from that striker mode offers triple payouts for free spins wins and the lucky mode offers a random free spins feature where the player can win 8 free spins totally at random.
Strikers, Bonus Balls and Free Spins
In both games the striker is the grouped wild symbol that appears on reels 1 and 5. When the striker is used to make up a winning payline, the winnings for that line are tripled. The stadium is the scatter symbol and this awards the player multiplying payouts of up to 500x when five appear on an active payline, four award the player 10x and three award the player 2x. Three and more of the scatter symbols awards the player 8 and more free spins. Three award the player 8 free spins, four awards the player 10-25 free spins and five awards the player 50-100 free spins.During the free spins a bonus ball can appear on any of the symbols and when the player has collected a bonus ball on all the reels he will trigger the penalty kick bonus. The player is invited to kick the ball in order to earn more free spins and if he has two misses in a row he receives the golden bonus kick or if he has eight good kicks in a row. This kicking game also includes the two random progressive jackpots that can be won at any time when playing the real money game giving the player even more to look forward to and hopefully win.