Mister Money Slots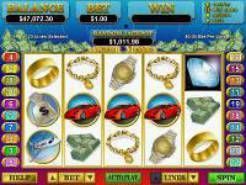 Current Jackpot
$7,960.31
Play Now
Mister Money slots is all about living the life of the rich and famous. You'll see a range of symbols that all point to wealth, such as sacks of money, stacks of cash, large diamonds, golden jewelry and Mister Money himself dressed very nicely. The slot has an allure to it, even though the overall layout looks a bit dated. The slot has quite a few special features hidden as well that are sure to make things a bit more interesting for gamblers.
Begin with a Bet
The first step to winning at this slot is to place a bet. There are 20 paylines for you to wager on, and it's your choice how many of them you activate with each round. Coins can be set at different values as well, from $.01 up to $5.00 each. Mister Money offers players a betting range of $.01 up to $100.00 per spin which is very nice.
Good Standard Payouts
Though most players focus on the excitement of the progressive jackpot, or the free spins bonus round, there's a lot of cash to be won during the standard rounds of Mister Money slots as well. There are three fixed jackpot payouts, the largest of which is 5,000 coins. The next one offered is 2,500 coins with a white diamond substitute to double its value, or 1,250 without the white diamond substitute. With a top coin value of $5.00 it's possible to win as much as $25,000 from a single standard round jackpot.
Advanced Autoplay
As long as you have a large enough account balance at the slots you can utilize the autoplay feature to go through many rounds without pressing spin. Set the total number of spins that you want to go through, and decide whether the slot should stop at jackpots or not. With it all set and ready, you can have it get spinning toward a chance at winning some serious cash.
Major Free Spins
One of the most exhilarating features in Mister Money is the free spins round. Free spins are triggered by three or more of the red diamond scatter symbols. Get them and you unlock a special bonus level where you determine just how many free spins you'll get. Choose from one of the 15 different options to reveal a total number of spins as well as a multiplier on the spins. It's possible to get as many as 30 free spins with a multiplier up to 50x the standard prize amount.
Generous Progressive Jackpot
Many progressive jackpots today are small in scale, but the prize offered on the Mister Money slot game at random is pretty generous overall. It's usually set above $5,000 and there is nothing you need to do to unlock the jackpot. It triggers at random and will leave you with a very healthy boost to your account balance if you're one of the lucky players to unlock it.