Ocean Dreams Slots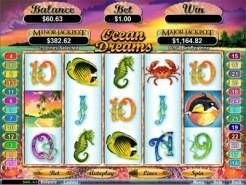 Current Jackpot
$4,861.25
Play Now
You'll have to blink to make sure all your dreams haven't come true when you begin playing Ocean Dreams the video slot game . This slot is set in true paradise with the beautiful ocean behind you and a whole host of sea creatures in front of you on the reels. The game looks nice, it sounds nice and it offers some nice jackpot opportunities as well to keep things interesting. Keep reading and you'll learn all that this little slot has to offer.
Bet Big or Small
In Ocean Dreams the power is yours to choose what level bet you want to make. Some players choose to bet small and place a bet as low as $.01 per spin. Others want to play with big sums and place bets as large as $125 per bet. Most players sit somewhere in the middle of all that and get a number that they are completely comfortable with. We were happy to see such a range of betting options on Ocean Dreams, making it good for just about any player.
Skill Stop
Ocean Dreams offers a skill stop feature that makes it easy to stop the reels whenever you like, not just when they are designed to stop automatically. That means you can very easily choose exactly when the reels will stop as you play, making it possible to take control of the game and hopefully get more prizes as a result as well.
Dual Wilds
Most video slots today have just a single wild symbol, but Ocean Dreams sports two different ones. They are both Orcas, but there is a standard orca and a golden orca. The standard orca substitutes for everything except the gold orca and the scatter. The gold orca subs in for everything but the scatter. The only difference between these two wilds is that the golden orca will double any win that it's part of, making it the most valuable symbol of the game.
Progressive Jackpots
Ocean Dreams incorporates two different progressive jackpots as well for players with enough luck to unlock them. These two jackpots can pay out hundreds, or thousands of dollars, depending on the one that you unlock, and they trigger randomly.
Huge Jackpots
Since the golden orca is the most valuable symbol in this slot game, it's fitting that it helps create the biggest jackpot in the game as well. To make this jackpot get a single golden orca along with four of the standard orca symbols. Five standard orcas pay out 10,000 coins, but with help from the golden orca the four orcas pay out 20,000 coins, or $100,000 in cold hard cash for a top better. That's a huge amount of money and a top bet that's truly fit for a high roller.
Scattered Island Free Spins
With three or more island scatter symbols you'll unlock a free spin round of this slot game. The free spin round gives you the chance to spin the reels for between 10 and 100 times without paying any money to do so. During the free spin round all standard orca symbols are transformed into golden orca symbols, giving you the chance to unlock a new highest jackpot, which is worth 40,000 coins. That's worth up to $200,000 when betting the highest amount of cash in Ocean Dreams.

Ocean Dreams is proof that dreams really do come true, and the slot game offers players a lot of opportunities to win big as long as they don't mind betting big as well. With huge top jackpots worth up to $200,000 it's no wonder that high rollers are willing to take a chance on this beautiful slot game.