Outer Space RTG Slots
If you're the type of gambler that enjoys a good space themed slot experience, then you're in for a treat with Realtime Gaming. The slot company offers a good blend of slot games for the space inclined that will take you out into the galaxy and give you some cool features to experience and play around with at the same time. We're not saying that we love every game offered by Realtime Gaming, but we do enjoy this selection of space-themed slots.
Outta This World is a Fun and Colorful Experience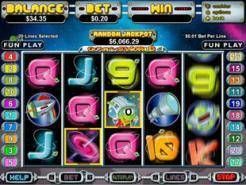 Outta This World is a pretty well-known space themed slot game that features planets, aliens, space ships, flying saucers and of course ray guns. The game is fun to look at, but it's even more fun to play. It's a 20 payline slot game with wagering options between $0.01 and $100.00 per spin. The game has a random progressive jackpot worth thousands, it has powerful wild symbols, high paying scatters and a nice solid bonus round.

During your time with the slot you'll likely enjoy the wilds. They appear on the 1st, 3rd and 5th reels and will expand to cover the full reel when they do. The scatters can appear on any reels, and are worth up to 500x your total wager amount when you get all five of them. They also trigger the bonus if you get them on the 2nd and 4th reels. In the bonus you pick from planets to earn free spins and instant payouts. All free spins come with a 2x multiplier for big wins. Outta This World is a simple slot, but it's a fun experience worth trying at least once.
Nova 7s is Surprisingly Feature Rich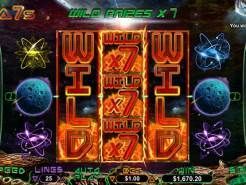 To anyone looking for a good space themed slot game, Nova7s is actually a pretty impressive gambling experience. The slot game packs in a whole bunch of features just under the surface tat you won't notice at first. The slot is themed after space and gives you a series of brilliantly bright planets, moons and asteroids to look at. Not only does it give you all those cool symbols, but it gives you a good mix of wagering options and game control options to help you play as you like.

While in this slot game you'll no doubt be disappointed by the smaller prize payouts at first. That's because the prizes on the paytable are on the smaller side. That doesn't mean you can't win big from this slot game, it just means you have to get lucky with the wilds. The wild red 7 symbols show on just two reels, 2 and 4, but they are potent tools to help you win big. Those wilds can transform at random to 7x wilds and multiply wins by 7 times the normal amount. That's not all though, they also stretch to cover an entire reel and will move to another reel to cover two at a time on some occasions. Between all these different special features you can trigger an awful lot of prize payouts from the wild symbols in this slot. There's a free spin round that uses the wilds to help you win even more, and the whole slot manages to maintain the cool space theme while being a load of fun to play. That's why Nova 7's is highly recommended overall.

Outta this World is a treat of a slot game with bright colors and plenty of features, but it's actually Nova 7's that surprised us the most. This slot game has some very powerful features, but it hides them away strategically. You end up with a thrilling gambling experience no matter which you choose, but if you want something less conventional Nova 7's is the way to go for space-themed slots from RTG.