Outta This World Slots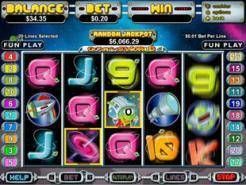 Current Jackpot
$3,302.42
Play Now
Become a space explorer traveling through the galaxies while trying for some truly stunning top payouts in Outta this World the space themed slot game . It has a total of 20 paylines, offers a good range of butting options and shows off a series of cool special symbols. The slot is feature rich as well, but that doesn't make it worth playing alone. Read on to learn more about this slot and whether it's a good fit for you or not.
Choose Your Bet
Betting is important in Outta this World slots because it determine how large every single prize payout you receive is. The minimum bet that can be made is $.01, but even top wins at that level would pay less than $200. That's why serious players bet much more, and the amount you can bet goes up considerably. Top bet amounts grow as large as $125.00 for players that want to risk a bit more.
Customizable Autoplay
Autoplay is available on Outta this World, making it a bit easier to get through many rounds of the slot without stopping. Players can set the game to go through spins automatically, up to 1000 at a time without stopping. What's really cool about this feature is that you can easily set the auto play feature to stop with any jackpot payout, or to stop after winning a certain amount of cash, up to $99,999.99. Set it and forget it, or just keep watching as the game virtually plays itself.
Massive Top Prize
The luckiest players trying Outta This World slots have a chance to win a massive jackpot payout of up to 150,000 coins. That's a truly monstrous payout, considering that coin values go all the way up to $5.00. With the maximum value set, a top win on this slot is worth $750,000. That's more than what you'll get with most video slots today, and it makes Outta this World a truly special experience.
Random Triggering Jackpot
Outta This World comes with a progressive jackpot that can pay out at any time. Every single time you place a bet in this slot game a bit of the money will go straight into that jackpot raising it up to a higher level. Eventually if you get lucky enough to trigger the jackpot you'll be credited with every single bit of that sweet cash. Jackpots routinely clime past $3,000 and grow to even larger levels.
Outta This World Bonus Feature
Get the black hole symbol on reels 2 and 4 at the same time to trigger this special bonus feature. At the start of the feature you are tasked with choosing different planets. Planets have a multiplier, 5 free spins or an alien hiding behind them. Players keep choosing planets and building up their spins and multiplier until they pick two alien symbols. When that happens the free spin round begins. Players will go through all their spins with the total multiplier that they built up and receive the reward in the end. Outta This World is a cool looking space themed slot game with good features that make it fun to play. It offers high fixed jackpots and exciting progressive jackpos as well. Add in the very powerful free spin feature and this slot game is a good option for players of all levels.