Paris Beauty Slots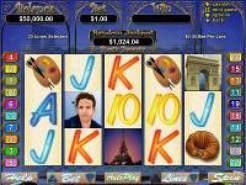 Current Jackpot
$3,735.16
Play Now
Take in the beauty of Paris France with the majestic looking slot game Paris Beauty . Sure it's not creatively named, but the slot does feature some nice looking symbols, a relaxing backdrop and some of Paris's most iconic landmarks. Is the beauty of this slot enough to make it worthwhile to play though? That's what we decided to find out for ourselves.
Paris Betting
Paris Beauty sets itself apart from many other video slots with excellent betting options available to players. There are a total of 20 paylines, and it's up to each gambler whether or not they place a bet on 1, 15, 20 or some number of lines in between. That's not where the betting options stop though. Players can also set the value of coins that they place on each of those lines. Coins can be valued at as little as $.01 and as high as $5.00 each. With that level of variation in Paris Beauty slots it's possible to risk a mere $0.01 and a whopping $100.00 each turn of the reels. That's a huge level of variation that makes the game well-suited to most gamblers, regardless of their bank rolls.
The Lady Wild
There's a special Lady symbol that serves as the wild for this slot game. The Lady symbol works to complete prize payouts for most of the symbols in Paris Beauty, other than the scatter symbol. Get the symbol in combination with other symbols to complete a prize and the amount is tripled in value thanks to that wild. This only works once though, so there is no chance to get a 9x or 27x multiplier on your prize by getting multiple wilds. It's still an exciting feature that really raises the payout value of a range of symbols and brings the top fixed jackpot up from 1500 coins to 4,500 coins instead, which is as much as $22,500 with coins set to the highest value.
Eiffel Tower Bonus
The Eiffel tower is an iconic symbol of Paris and it's the scatter symbol in Paris Beauty. Get three or moe of the symbols and you'll enjoy a fixed payout times your total bet, as well as a set of free spins. Enjoy 12 free spins where prize values are doubled no matter how much you win during the rounds. It's possible to re-trigger additional free spins by finding more Eiffel tower symbols while playing too.
A Worthwhile Progressive Jackpot
There's also a progressive jackpot in Paris Beauty that's worthy of any serious gambler. This jackpot can pay out tens of thousands of dollars to one lucky player, and there is no trick to winning it at all. Just be the lucky player that spins the reels and triggers the jackpot at random. Once it's triggered the entire balance is paid to your slot balance and the jackpot resets at a much lower level. Paris Beauty is a nice looking slot game that celebrates what many people like about Paris and France in general. Try out the slot for a look at some cool Paris-themed symbols and a chance to win a monstrous progressive jackpot. All the other added features make it a bit more enjoyable as well.