Return of the Rudolph Slots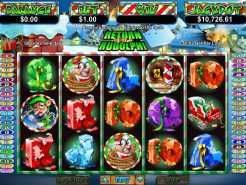 Current Jackpot
$9,549.60
Play Now
Well it's that time of year again and it's time to start celebrating the holidays the right way, with fun online themed slot games! Return of Rudolph is a promising video slot game that's themed after Rudolph the Reindeer with a bunch of different holiday-inspired symbols along the way. If you play through this slot you'll be amazed at all the different bonus features. Read on to find out just how diverse this online slot game is.
Fixed Payline Betting
In Return of Rudolph the slot game you have a fixed set of paylines with 50 lines in all. That means every single spin of the reel you have 50 different possible ways to win prize payouts. With 50 lines to bet on, the minimum bet is $0.50 and the maximum bet is $250.00 per spin. That's a good solid betting range to work with and something that most gamblers other than the penny slot players will enjoy.
Look out for Rudolph
Rudolph is a complex symbol in Return of Rudolph. It's the wild symbol and can show up on any of the five reels. Get five of them and get a minimum of 2,000 coins. Rudolph can show up as a stacked wild across the entire third reel though. When this happens you obviously have a better chance of winning prizes because of all the wilds, but all wins are tripled as well as long as they make use of the middle wild stack. This raises the value of a Rudolph prize payout to as much as 6,000 coins when using all Rudolphs and there's a stack in the middle.
Scatter Jackpot
The Thug symbol is the scatter in Return of Rudolph and can unlock a special jackpot prize. Get five thugs and you'll be rewarded with the progressive jackpot that's constantly growing in size. It begins at $5,000 and goes up from there. This is very exciting bonus payout, but even if you don't get enough scatters you could still get enough to unlock one of the many bonus rounds in this slot.
Rudolph's Rampage Bonus
Rudolph's Rampage is one of the bonus features unlocked from three or more scatter symbols. This bonus game starts off by having the player choose from different boxes to try and find elves. These elves can be holding presents that offer prize multipliers, turn on the constant stacked wild and transform scatters into wilds during the rounds. It's possible to win as many as 50 free spins through this bonus or as few as 5 free spins. The number of free spins depends on how long it takes for you to find the elves. If you find all three in your first three picks you'll get 50, if it takes you 8 you'll get 5.
Santa Strikes Back
Santa Strikes Back is another special bonus round that can be unlocked in Return of Rudolph. In this game you get 7 free spins with a 1x multiplier, but there is a star meter to fill up. Get enough stars during the free spin rounds and you'll reset the spins back to 7 with a 2x multiplier. It's possible to do this through 9 rounds, giving you a 9x multiplier on the last playthrough and a whole lot of free spins along the way.
Rudolph's Revenge
Rudolph's Revenge is the last bonus game and it's a lucrative one as well. In it you get 7 free spins with double prize payouts. Each round your total prize amount is multiplied further by the number of Rudolphs on the screen. If you activate the bonus with four or more scatters the Thug symbols will show up as Rudolphs as well, creating many more winning opportunities.

Return of Rudolph is one of the best holiday themed online video slot games that you'll find today thanks to all the excellent bonus features that there are to unlock. Give the slot game a try and you'll be amazed by just how good it is to play through.