Triple Toucan Slots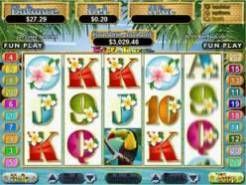 Current Jackpot
$2,050.69
Play Now
Triple Toucan slots is a leading slot game from RTG that incorporates a beautiful beach setting, solid payouts and exciting bonus games. It's nice to look at, and offers a range of features, but each player will have to decide whether or not it offers enough features to appeal to them personally. Keep reading to uncover exactly what we discovered about this slot during our playthrough of it.
Betting Options
We're all for as many betting options as possible when it comes to laying down that initial wager. That's why we were happy to see so many different variations for betting levels in Triple Toucan. Players can go with a modest bet of just $0.01 on a single payline if they aren't worried about winning big, or they can raise the stakes again and again until reaching the bet cap of $100.00 per spin across the 20 possible paylines. That's a huge one-spin bet, and opens players up to some huge potential wins from Triple Toucan.
The Tripler Wild
Instantly triple any payout that you receive from this slot game with a bit of help from the wild toucan symbol. The symbol shows up on three of the reels, 1, 3 and 5 and when it's part of any other prize combo it triples the amount paid out. That's something to get excited about, and it's completely possible for you to unlock some huge prizes using the wild symbol.
Free Spins Galore
There's a special free spins round in Triple Toucan that lets you win up to 25 total free spins. To get to the free spin round you need to get at least three of the scatter symbols. Three scatters gets you 9 free spins, four gets you 15 and five gets you a whopping 25. During those free spin rounds you'll enjoy even more powerful wilds. They keep the 3x multiplier, but they will also expand to cover any reel they are on. That means you'll see a whole lot of wild wins during your free spin rounds. Scatters are also worth quite a bit even before you take into account the free spins, and you can win between 1x your bet and 300x your bet depending on the number of scatters you get out on the reels.
The Random Jackpot
Like many other slots developed by Real Time Gaming, Triple Toucan comes with a progressive jackpot that's completely random. It grows slowly over time to be worth thousands of dollars, and is paid out randomly. There isn't any trigger, and it can be awarded after any spin of the reels in this slot. That's what's so exciting about the progressive jackpot, you never know when you'll be awarded it. Triple Toucan is a laid-back beach-themed slot game that gives you beautiful sites to look at as you gamble, but it's more than that. The game offers some very lucrative wins with up to a 9,000 coin payout possible, and it offers good solid bonuses to keep things interesting.