Naughty or Nice: Spring Break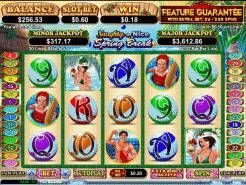 Current Jackpot
$5,519.66
Play Now
Celebrate the holiday season with a couple of beautiful women and a whole lot of cash with Naughty or Nice: Spring Break the slot game . This game features two bikini-clad women at either side of the reel and the whole theme of the slot is about choosing one or the other. This game is known for its frequent prizes and it's special bonus features, and it helps to keep things interesting during gameplay. Read on to know more about the different slot games and whether or not it's right for you.
Low Fixed Jackpot
In Naughty or Nice the top jackpot is fixed at a measly 1,500 coins, which is certainly lower than what's been the standard for most slot games today. That doesn't mean you can't win good money from this slot though, it's just not likely to win very big on a single turn of the reels. Instead players must rely on several smaller wins, which come through fixed jackpots along with the progressives and the bonus rounds.
Progressive Jackpots
There's a minor and major progressive jackpot and these are totally random. With each spin of the reels there's a chance that you could unlock one or the other. These jackpots pay out occasionally and they really add to the total prize money that's available.
Bonus Games
There are two special bonus games, both awarded from scatter symbols in this slot game. There's the Nice Girl bonus and the Naughty Girl bonus. It's up to you to decide whether you want to go with the naughty or nice option and each offers a different experience. The Nice bonus round converts all the naughty wild symbols to nices, adds in some cluster wilds, and gives you the opportunity to win up to 500x your bet over your 12 free spin rounds. Don't forget that all the nice wilds double your prize during the round, which is a nice bonus feature.

If you decide to go with the Naughty bonus round, there's a total of 10 free spins, and players will enjoy a few bonuses, like the third reel may turn into wilds, scatters may become wilds and the Naughty Girl wild might count toward scatters as well throughout the free rounds.

Add in the fact that getting enough scatters during the free spins round can add on additional free spins and you have a very promising bonus round that can pay a lot to lucky players.
Feature Guarantee Bet
There's a special feature known as the feature guarantee that can be activated to ensure that you get more bonus rounds as you play. To activate this feature pay an additional 10 coins per spin. The guarantee ensures that bonus rounds occur every 26 to 250 spins and just add in some additional bonuses for players to enjoy. This feature will also be active without the additional bet, but the guarantee changes from 26 to 250 spins to 50 to 500 spins instead.

While the beautiful women of this slot game are likely the reason that you're trying it out in the first place, the actual features offered are what will persuade you to stay long term. Even though there isn't a huge bonus to be won, there are plenty of smaller victories to enjoy, and it's possible to chain together very impressive payouts from the bonus rounds as well.