Megasaur Slots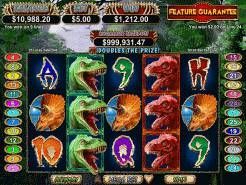 Current Jackpot
$1,062,066.64
Play Now
It's a thrilling Jurassic Park type situation in Megasaur Slots , featuring a bunch of sinister looking dinosaurs, mammoth bets and a lush jungle backdrop that makes things interesting immediately. The slot has a total of 25 paylines, and offers a good solid range of betting options. Below we explore the features more in-depth and decide whether the game is worth it or not.
A Serious Jackpot
Before touching on anything else, we wanted to take a good look at the Megasaur Jackpot. This massive progressive jackpot is larger than any we've seen before on a video slot. It grows larger than $900,000 and players have seen it all the way up to $999,000 in the past! This jackpot isn't easy to win though. Winning the top prize requires a whole lot of luck, and demands players risk the maximum amount on this slot as well.

To unlock the jackpot players must be betting $5 per spin, and they need to get five of the volcano symbols while in free spin mode. With half the bet amount players only need to get 4 volcano symbols in free spin mode to get a 20% cut of the jackpot, and with a bet of $1.25 per spin just 3 volcano symbols during the free spin round will pay out 10% of the mega jackpot, so there are plenty of ways to win big even if players can't afford to spend $5 per spin of the reels.
Low Betting
For a slot game that offers up to $1 Million in prize payouts in a single round, it's surprising that the maximum bet on Megasaur slots is comparably low. Players can risk between $1.25, $2.50 or $5.00 per spin. The slot locks in 25 paylines at all times and lets players choose coin values of $.05, $.10 and $.20 per line.
Vicious Wilds
The green and red Megasaur symbols serve as the wilds in this slot game. When either one appears on the reels they eat all other dinosaurs and replace them with wilds as well. The red also doubles any prize that it's apart of, so getting a red Megasaur out on the reels is very exciting as it spreads and triggers prize payouts. These symbols replace anything other than scatters, each other and the volcano symbol.
Feature Guarantee
Megasaur offers players a feature guarantee to give them the confidence to spin just a bit longer in order to unlock a guaranteed top feature. Players that go through 250 rounds without unlocking a feature of the game will be guaranteed an unlock. Sure 250 spins is a huge number, but many players go through that many in a session or two without a problem.
Win-Win
Megasaur has plenty of features to make sure most players go home a winner. Players that don't win much during a free spin round will trigger this feature. Any players that earn 10x the initial bet or less during a free spin round have the chance to win as much as 350x their bet under the right conditions.

With a top jackpot payout of just shy of $1 Million it's hard for us not to recommend this slot game, and that doesn't even take into consideration the advanced wilds, the exciting free spin round of the game or the excellent standard jackpots available, not to mention all the other special features like the feature guarantee and the win-win feature that help create more winning opportunities. Overall Megasaur packs a whole lot of exciting features in for players, making it a must play game.