Small Fortune Slots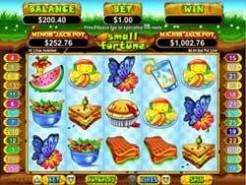 Current Jackpot
$3,359.11
Play Now
Small Fortune is a unique slot game that's based around the theme of ants finding food at a picnic. The small bit of food that's et out for the picnic quickly becomes a boat load of treasure for these little ants. This slot game features bright and lively symbols and it offers some nice bonuses as well. That doesn't mean it's a good fit for every gambler out there though. You'll have to keep reading to decide if Small Fortune is the next slot game for you or not.
Placing a Bet
When gambling on Small Fortune the slot game you have to set your bet to a comfortable amount for your bankroll. You can do so by adjust the lines that you want to play on and the coin value that you'll be placing on each of the lines. You can adjust each of these settings independently of one another. The coin value can be set between $0.01 and $5.00 and the lines can be set from 1 to 25. This gives you a betting range of one cent up to $125.00 to work with.
The Free Spins Round
It's possible to get up to 45 free spins with a 6x multiplier if you are lucky enough. To unlock the free spin round you need to get at least two of the ant symbols as well as one basket symbol. The ant symbols only appear on reels 1 and 5, but the baskets can show up anywhere at all. Each basket symbol is worth 5 free spins and the ants give you a 1x multiplier each, so the more you get the better your chances are at getting a substantial payout.
Dual Random Jackpots
Small Fortune offers a minor jackpot and a major jackpot. Each one of these is given out randomly if you are lucky enough. At the end of each round while gambling on this slot game it's possible that you can win the bonuses. Small Fortune is a pretty simple slot game based on a very fun theme that we haven't seen on anything else. This makes it worth playing even before you factor in the decent betting range and good prizes that the slot pays out. It's possible to win quite a bit of cash through the standard rounds of the game, and it's also possible to win even more by getting one of the progressive jackpot bonuses if you are lucky enough to do so.