5 Wishes Slots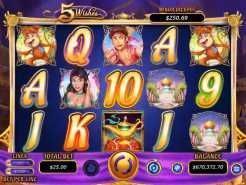 Current Jackpot
$5,836.05
Play Now
We all have things we like to see in any slot game. Our biggest wish would be to get a jackpot prize, of course. There is a new slot game in town called 5 Wishes, and this could provide you with a list of things you like to see in your favorite slots. We're going to check it out for you here, so you can discover more about it and what to look for when you play.
Do we know who the developer is for the 5 Wishes online slot?
We do, and it is not an unfamiliar one either. This one comes from Realtime Gaming, which is often simply called RTG, as they are famous from those letters alone. This new slot is the latest in a line of great releases planned for 2020.
Is there a demo to try?
There is. Since there are some neat features involved in 5 Wishes, we suggest this demo is your best method for figuring out what happens next.
Does the game offer a well-trodden theme?
Yes, but don't let that deter you. The theme is based on the Arabian Nights story, with the magic lamp, and of course Aladdin appearing during proceedings. The genie looks very powerful, and there is a cute monkey hopping around too.
The design of the game
The game looks impressive, for sure. While the background to a slot is far from the most important element of a game, it does have a role to play in setting the tone. Here, it provides a backdrop that adds depth to the Arabian Nights theme. The color scheme uses purple and gold to add a richness that works well.
The basics in store for you in the 5 Wishes slot game
Five reels load when you get started playing the game. Each of those reels has three icons stacked on it. The controls all sit underneath the reels. On top of those reels, just by the fourth one, you'll see a jackpot box. This toggles between the minor and major progressive jackpot amounts.
The genie is the wild, carrying a 2x multiplier to improve anything won with his assistance. The magic lamp is used as a scatter symbol.
How many paylines should you expect in the game?
There are 25 lines, and you can choose how many you wish to activate during play. We always recommend playing them all, though, and using smaller coins to ensure affordability.
Selecting your bets
RTG always provides its players with a reasonable selection of coins and betting options. The same approach can be seen in the new 5 Wishes slot game as well.
Don't miss the paytable
5 Wishes does include some neat and magical features that set it apart from many other games. If you want to check over all the symbols, rules, and features, we recommend selecting the burger icon in the bottom right of the game. This takes you through to the paytable.
Is there a bonus feature to be found?
No, it doesn't appear so. Wouldn't you have loved a ride on a magic carpet or something, though?
Are there any magical free spins to be won?
Yes, and you'll need to find three of those magic lamps to unlock them. You'll receive 10 free games for your efforts, but these are no ordinary free games. They contain the Genie Magic Wilds feature, which means the genie may appear and randomly turn other icons into wilds. During this feature, it's possible to secure a further 10 freebies if you can locate another three lamps, too.
Is the RTP revealed?
No, we couldn't find any information relating to the return to player value connected to the game.
Does our rating go high for the 5 Wishes slot?
We're going to give this 8/10, because while there's no bonus, there is a chance to play a free spin round that is different from many others. The multiplier is good, but finding the random wilds cropping up thanks to the genie is better still.
Could we hear of some progressive jackpot winners soon?
Yes, it's possible. It seems the two progressives drop randomly following a paid spin of the reels. The random trigger means no one knows when one of those pots is going to pay out. We think that is going to attract a lot of attention for this new RTG slot game. Has it attracted yours?
Get started by playing just for fun
This is a great theme, hence why it has been used so often already. It's no biggie to see it again here though, especially with the genie appearing in such magical fashion. Find your way through the magical slot game and see how it pans out for you.
Then, you can try playing it for real
5 Wishes awaits in real play mode if you would like to try it. Wouldn't that be cool?
Mobile accessibility is magical too
No need to restrict yourself to a computer. Make sure you get the chance to play 5 Wishes on Android or iOS smartphones or tablets if you like what you see here.