Pirate Isle Slots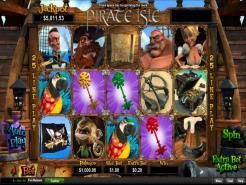 Current Jackpot
$10,922.46
Play Now
Pirate Isle is a newer online slot game with excellent graphics that are all themed around being a famous and feared pirate sailing across the seas. As a pirate it's up to you to unlock rare treasure, to battle other ships and to seize prize payouts whenever possible. The slot is feature-rich and many players enjoy it, read on to find out if you are one of them.
Bet High or Low
On Pirate Isle betting is one of the key aspects of gambling strategy that requires some thought. Gamblers have the chance to secure massive wins, but they risk paying too much for pitiful returns as well depending on the bets that they place. In Pirate Isle betting options vary dramatically. Coin values can be anywhere from $0.25 up to $5.00 each. There are 25 total paylines, which means players can risk a low of $0.25 and a high of $125.00. The amount risked determines what awards are paid out for winning combinations, so it's important to choose wisely.
Doubling Skeleton Key
Arguably the most powerful symbol in Pirate Isle Slots is the Skeleton Key symbol. This symbol serves as the wild in the game and can help complete a wide range of payout combinations. It's also a grouped wild which means that you'll get several of them out at the same time every single time. To top it all off, the skeleton key also doubles any wins that it's part of. That's why many of the best wins that players get from Pirate Isle slots involve the skeleton key symbol in one form or another.
Gathering Treasure Keys
Players are tasked with gathering up treasure keys while going through rounds on Pirate Isle slots. To get a treasure key you need to get three or more key symbols. Once a treasure key is obtained, it's held until there's a chance to use it in a free spin round later on. It's important to get many different treasure keys for more chances to win big later on.
The Treasure Chest Round
Getting three or more treasure chest symbols unlocks the treasure chest round where up to 300 free spins can be won. During the round a treasure map is provided with a set of chests. Choose chests carefully to unlock special prizes and free spins. Choose a chest that matches a treasure key you already have, and the prize awarded will be tripled on the spot.
Free Spins
During the treasure chest bonus round it's possible to win up to 300 free spins, once you do you'll move straight into the free spin round of the game. During your free spins all the wilds will be active like usual, and there is a chance to unlock additional free spins by getting three or more treasure chests during a single spin.
Galleon Broadside
There's yet another feature in this online slot game known as Galleon Broadside. This special feature triggers each time three Galleon ships show up on an active reel and the extra bet is in place. When this happens the feature triggers and it's time to start battling ships. Beat five ships and unlock the jackpot for the game, which is an excellent progressive jackpot that slowly grows over time.

Pirate Isle slots is packed with features and always offers something special to gamblers looking for excitement. Each play through is sure to offer decent prize payouts, some cool features and a lot of excitement. Whether or not it's worth playing is up to you and your personal tastes, but it's a slot worth testing out once at least.