Red Sands Slots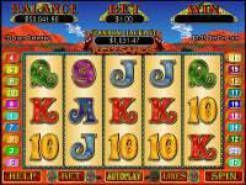 Current Jackpot
$2,050.69
Play Now
Red Sands slots is a modern-day video slot focused on the dessert in the Outback of Australia. It's designed to show off all the unique animals of the area, and also offers some decent prize payouts and offers exceptionally affordable betting levels for low-stakes players. Any gamblers looking for a good entry-level video slot to try out should give this game a try. It's affordable, simple and worth testing out at least for a little bit.
Betting
There is some variety to the betting in Red Sands, but high rollers won't like the upper limitations of this slot. There are a total of 20 paylines for you to place a wager on, and each of those lines can have a single coin. It's possible to adjust coin values between $.01 and $0.25 each. That means you can go from a minimum bet of $.01 to a maximum bet of $5.00 overall. That's a pretty small gambling range and only really good for the low stakes players out there, there is a decent range of options to choose from though.
Top Payouts Pretty Minor
The kangaroo symbol of this slot game serves as the wild for the game, and also as the key to the highest payout you can get. Get five kangaroos and you'll be rewarded with a 5,000 coin payout, the largest standard payout in the game. That's not a massive prize though when you consider it's worth just $1,250 with the highest active bet in the game.
Re-Spin Feature
Red Stands features a special re-spin feature for gamblers that are lucky enough to trigger it. This feature gives them free spins to play with quickly and easily. If you're playing this slot game and you get two or more of the scatter symbols, you'll get free spins that you can use to win even more prizes from the slot game.
Random Jackpot
The top payout of Red Sands comes from the random progressive jackpot. Unlocking it is completely random, and the prize slowly climbs over time, well over the $1,250 that serves as the maximum standard payout for this slot. It's a good way to win even more from the slot, but only the luckiest players will be able to unlock the ever-growing prize that makes up the random jackpot. Red Sands isn't a spectacular slot game, it doesn't have a long list of features or massive prize payouts, but it's a fun game with a decent theme. Low-stakes slot players will enjoy what this game has to offer because it pays out frequently and makes it easy to win some good money. High stakes players will likely pass over the slot game for something else instead.