Tiger Treasures Slots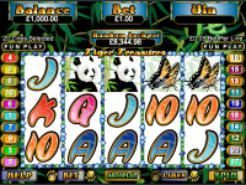 Current Jackpot
$2,050.69
Play Now
Tiger Treasures slots is an animal themed game that's all about enjoying the beauty of India while going for top paying jackpots. This slot game is nice to look at on the surface, but it has a few hidden features that make it stand out as well. Read on to learn exactly what they are.
A Massive Maximum Bet
One of the things that stood out to us most while putting together this review of Tiger Treasures slots was the maximum bet that you can place for a single spin of the reels. It's a whopping $500. No I didn't make a mistake while putting this article together. You can wager an eye-watering $25.00 per pay line across a total of 20 pay lines for a massive top bet. That's one of the highest we've ever seen on a video slot, and very exciting for high rollers that love slots. With that said, you can bet a minimum of $0.01 giving this slot one of the biggest betting ranges we've ever witnessed.
A Powerful Wild
The Tiger Symbol is one of the most important in this slot game and serves as the one and only wild. It shows up on reels 2 and 4 and will triple any wins that it's part of. That makes it easy to get huge prize payouts when they involve the wild symbol.
A Nice Top Payout
The biggest win that you can get from Tiger Treasures slots is 4,500 coins. To do this you need a five symbol combination that's made of all sapphires and wilds, or all rubies and wilds. Do this and you'll receive 4,500 coins. That's up to $112,500 if you're one of the brave few gamblers willing to put $25 on each pay line that you have active while gambling.
Free Spins
Tiger Treasures also has a free spin mode for you to take advantage of. To unlock this helpful feature you need to get at least three scatter symbols. The free spin feature gives you between 5 and 25 free spins, providing ample opportunities to win even more cash from this lucrative slot game.
Autoplay and Stop
There are several different ways for you to play this slot game. If you're the type of gambler that doesn't like pushing the spin button regularly, you can use the autoplay feature to go through a set of spins automatically. Set it to stop after a certain number, and have it stop for free spins or after reaching a certain amount of cash if you like. There's also a stop feature, letting you stop a spin as the reels are still turning to give you a bit more control over what symbols the slot lands on.

Tiger Treasures gets a recommendation from us for any high rollers out there that want to try out a slot game that gives them the chance to bet as much as they like. There are few other slots that offer a $500 betting limit. With that aside, it offers decent payouts and an alright bonus feature, but the game is pretty basic overall and doesn't offer any features that you won't find on a few other slots as well. That said, it's not bad at all and worth a try, especially if you like the look of the game.