Rudolph's Revenge Slots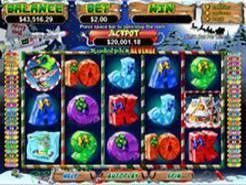 Current Jackpot
$35,828.11
Play Now
Celebrate the arrival of the holiday season with Rudolph's Revenge , a fun holiday themed game. In this online slot, you'll see a range of bright characters, like Santa, Rudolph, Bombs and more to play for. The game is known for decent payouts despite the low bet cap, and it has a top notch progressive jackpot as well. These are the reasons that players give the game a try, read on to learn more about the game's features.
Odd Bet Setup
While most slot games today allow you to pick and choose how much you want to risk while playing, that's not the case for Rudolph's Revenge. Instead the game sets players to a bet of $2.00 for every single spin. The game has 50 paylines, so each line has a bet of just $.04, much lower than many players would prefer. With the amount set so low many of the prize payouts aren't worth too much, and most players look forward to the progressive jackpot for this reason.
Special Bonus Round
Get three or more of the bomb symbols to unlock the free spin round of this slot game. In Rudolph's Revenge you always get 7 free spins, but the number of scatters used to activate the round makes a big difference. Four scatters present transforms bombs into wilds throughout the free spin round as well. Five scatters used transforms Santa symbols as well as bombs into wilds during the free spin rounds. Each time Rudolph shows up on the reels the multiplier climbs up from 2x to a higher amount, creating an opportunity for some massive multipliers during these rounds. One important thing to note is that it's not possible to win the progressive jackpot during the free spin round, that's because it's too easy to get wilds during these rounds.
Huge Progressive Jackpot
When playing Rudolph's Revenge slot, it's all about the progressive jackpot. That's because the payout from this jackpot is pretty huge and it's something that most players would be happy winning. Unlocking this payout is as simple as getting five of the Rudolph symbols in a row. Do that and you'll immediately be rewarded with whatever the progressive jackpot happens to be at that moment. Each turn that goes by without winning the jackpot raises its value up just a little bit more as well, giving players something to look forward to as they gamble.

Rudolph's Revenge is the ideal slot game for gamblers that want a challenge but don't want a game that's too expensive. The highest payouts are achievable with a bet of just $2.00 per spin, making the game very affordable for all players, and it offers some nice features as well.