Are You Ready to Meet the Jumping Beans?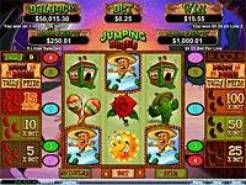 Current Jackpot
$5,329.75
Play Now
If you think you have seen every version of the three-reel slots out there today, you might just want to think again. We've taken a fresh look at Jumping Beans, released by Real Time Gaming, and they've been known to come up with something a little different like this in the past. The Mexican-themed slot is definitely worth a try, and we think you'll like what you see. With fun symbols and the addition of progressive jackpots too (yes, there's more than one available) it could be a real winner in more ways than one.
What's the situation with reels and paylines?
The three reels you'll be presented with have a total of five paylines wending their way across them.
Does Jumping Beans allow decent bet amounts?
Yes, but it is designed more for the lower-budget players. If that fits you, you'll like what you see. You've got the chance to wager between a cent and one dollar on each line, although you can only bet one coin on each. The five-dollar maximum bet is therefore within the reach of many players who can never reach that level on other, bigger slots.
Are there special symbols to try and get on the reels?
Watch out for Mr Bean wearing his sombrero. He is the substitute and can replace anything except for the scatter. Yes, you guessed it, her name is Mrs Bean! She looks just as happy as her husband, and appears to be dancing to music. That makes her pretty easy to spot!
Does the game have a bonus round?
You can win some free spins, and these are accessible by getting Mrs Bean on each of the three reels. When this happens, you can enjoy 10 free spins. In these spins, all the beans that appear on the reels are collected. When the spins are over, those beans will be converted into prizes for you. You can see how well you are doing by watching the bonus beans sections on either side of the screen. Will you get enough beans to get the maximum 100x multiplier?
Download and play Jumping Beans online now!
Here's the deal – Jumping Beans is jumping good fun! For a three-reel game, it certainly has lots to recommend it, don't you think? But while we might think that, it's up to you to check out just how fun this game is , no matter whether you're winning small or big!