Treasure Chamber Slots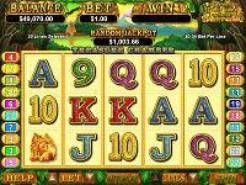 Current Jackpot
$1,485.94
Play Now
It's time to travel into the heart of South America searching for serious treasure and historical artifacts as an adventurer in Treasure Chamber online slots. This online slot game features a good selection of beautiful symbols, and it offers some interesting bonus features as well. Keep reading to learn about what the huge max jackpot payout is, as well as how you can increase your chances of winning big while playing through this slot.
Set the Bet
The first step that any player using Treasure Chamber will have to take is setting the bet. This means choosing a bet value and a line number and then combining the two. Players have 20 lines to work with, and can bet any combination between 1 and 20. They have coin values ranging from $0.01 and $5.00 to work with as well. That means gamblers are free to risk a meager $0.01 on Treasure Chamber or a maximum of $100.00. That's quite the range that should have most players very comfortable with what they are risking while playing.
A Huge Progressive
Treasure Chamber keeps things very interesting for players by offering a random jackpot that grows in size with each turn of the reels. This jackpot pays out after a spin and it pays out randomly. It goes past $20,000 in size, and can become very large and exciting. Players win this huge payout every once and awhile and it's one of the best features of this slot game that continues to draw more players in.
Regular Payouts to Note
Like most other slot games Treasure Chamber has special bonus rounds, but you don't need them to win nice sized prizes. During the regular rounds of this slot, it's possible to win as much as 10,000 coins or a whopping $50,000 with a max bet. This comes from getting five of the Wild Adventurer symbols. This symbol serves as a wild that replaces all but the scatter symbols. The next best symbol is the Female Adventurer worth 2,500 symbols and then the Jaguar worth 1,000 coins.
Rose Free Spins Feature
The beautiful rose symbol is the scatter in Treasure Chamber and it's an important symbol for a few reasons. Get three or more of these beauties and you'll unlock a direct payout that's a multiplier of your total bet amount as large as 200. The next benefit of this symbol is that it's the key to the free spin round. The free spin round is triggered by getting three or more, and it gives you 20 free spins along with a 3x multiplier. That means you could win as much as 30,000 coins with the top jackpot symbol during the free spin round. That's a prize payout as large as $150,000 with a maximum bet. Treasure Chamber has a lot going for it as an online video slot game, and it's worth at least looking at if you're a serious gambler looking for another online slot to try out. With high maximum jackpot payouts and plenty of special symbols this slot is interesting and particularly fun for Indiana Jones fans.