Will You Double Ya Luck?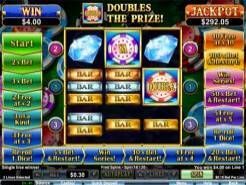 Play Now
If you are a bit tired of regular three-reel games, we recommend you try Double Ya Luck from Real Time Gaming. This is very different from anything you have seen before, and although it has been available for a while, it is still worth a fresh look. You certainly won't look at a three-reel game the same way again once you see what this one has in store for you!
What's the situation with reels and paylines?
Yes, there are three reels here, but the game offers up three paylines as well, straight across the reels.
Does Double Ya Luck allow decent bet amounts?
You can get started with a 10-cent bet per line, and maximize this to a dollar a line if you like. You can only play one coin on each line.
Are there special symbols to try and get on the reels?
'Double' is the substitute in this game, and it can appear anywhere. Meanwhile, 'Ya' and 'Luck' are the scatters, and will appear on the second and third reels respectively. This means you can spell out Double Ya Luck across the three reels. This wins a 50/50 gamble feature, and this in turn brings you as many as 40 free games, not to mention up to a 4x multiplier. You get a guaranteed five free games to begin with, and you might get more from there if you choose the 50/50 gamble correctly.
Does the game have a bonus round?
Yes, it does, and it is the Board Game feature. This begins if you manage to get at least one die on the reels. Several dice can also trigger the feature (this acts as another scatter). When this happens, you will begin play at the left-hand side of the screen, on the start symbol. The idea is to get as far along the board game section as possible, which is dependent on the numbers revealed by the die or dice you have revealed. There is a progressive jackpot too, so you may just have a shot at winning that!
Download and play Double Ya Luck online now!
The best way to get the hang of playing Double Ya Luck is not to read about it, but to actually give it a try. This is an amazing game, feature-rich and reminiscent of the classic flashing screens of the casino slot machines. And it could win you far more coins than you might imagine!