Naughty or Nice III Slots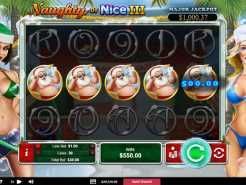 Current Jackpot
$2,285.25
Play Now
Most gamblers really enjoy the Naughty or Nice franchise of slot games, which is why we were so happy to hear that Naught or Nice III was coming out. This new slot game brings back the same Naughty and Nice girls in different poses, and it offers you prize payouts in new ways as well. We were impressed with some features of this slot, and weren't so impressed with others. If you want to try this slot out, take a look through our review first to find out what you can expect. Or try the game for yourself and form your own opinion!
Grouped Wilds
There are two sets of grouped wilds in Naughty or Nice III that will help you trigger more prize payouts than you could do on your own. The Naughty girl symbols show up on reels 1 and 2 as grouped wilds that take the place of everything but the scatter symbol. The Nice girl symbols show on reels 4 and 5 as grouped wilds and they take the place of all but the scatter symbols as well. You'll see these wilds on the reels frequently, and there is a chance that you'll get several of them out on the reels at the same time as well, which makes winning combinations easier to attain.
Smaller Prize Payouts
We were surprised by the top payouts of this slot when we first tested it out, because we were expecting it to be larger. We were expecting some life-altering top prize payouts, and that's not what you get here. Instead, you get a maximum prize payout of 500x your line wager amount, which isn't going to be huge even if you put the maximum wager in place before spinning the reels. If you get hung up on trying to win all your winnings in a single spin this is going to disappoint you and maybe keep you from playing this slot. Naughty or Nice III is designed to offer combination wins often though, and it's these that will make the slot worth playing over time.
Multiple Bonus Features
If you are fortunate enough to get three or more of the scatter symbols, you can unlock one of several different special bonus rounds. You'll enjoy 7 free spins, and you'll get one of four bonus features depending on if you choose the Naughty girl or the Nice girl. If you choose the Nauighty girl she will show up covering the entire first reel throughout your free spins, or she will serve as an extra scatter for you throughout the free spin rounds. Getting three or more scatters on any spin during this round will reward you with an additional 5 free spins, so the extra scatter could be very beneficial.
If you choose to go with the Nice girl instead, she will either show up over the entire fifth reel, or the whole fifth and fourth reels throughout all of your free spins. If you are fortunate enough to get two full reels of wilds you'll have a very good chance to trigger all sorts of exciting prizes as you play through your 7 free spin rounds.
It's important to note that if you choose the Nice symbol any wins involving the Nice girl are doubled in size. The same thing goes for the Naughty girl symbol if you choose naughty, so keep your decision in mind as you are playing through the rounds of the slot game.
Win More with Lucky Features
On top of the special bonus round that triggers by getting three or more of the scatter symbols, Naughty or Nice III also has a Lucky Features bonus that can trigger randomly at the end of any normal spin. This feature will either give you between 5 and 10 free spins for you to enjoy, or it will trigger the special scatter bonus and put you through all those rounds of that highly rewarding game. Either way, the Lucky Feature will improve your chances of winning even more.
Progressive Jackpot Rewards
On to of all the other features that we already covered up above, there is a special progressive jackpot reward system in place as well. These rewards trigger randomly after spins and there is no way of knowing when they are going to hit. These jackpot payouts start at $250 and $1,000 but they grow each time a player spins the reels of the slot and doesn't win the prize. The jackpots are likely to be much larger than that the first time that you start playing, and if you are lucky you could unlock one of those two payouts for yourself.
Naughty or Nice III is an exciting slot game with an excellent blend of features designed to keep things interesting. Of course there are going to be some things that players love and others that they hate. We expect some gamblers to be upset about the lower maximum payouts, but many will fall in love with all the different features and the bonus triggers that you'll get as you play this slot game for the first time. It's a lot of fun and worth testing out at least on a trial basis.