The Three Stooges Slots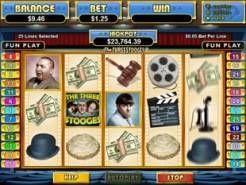 Current Jackpot
$20,150.44
Play Now
Who doesn't love the well-known comedy trio the Three Stooges? If you're a fan of the comedians you'll love the idea of the Three Stooges slot game , which is a slot based on the characters and their programs. Each of the three loveable characters shows up on the reels and they all have their own unique bonuses as well. The slot itself is pretty nice looking and it comes with plenty of nice features, but there may be things about the slot that you don't like as well. You'll have to read on to find out what we liked and disliked about this slot game.
A Fixed Bet
Before even getting started with this slot game we were surprised to see that it comes with a fixed bet of $1.25. That's not a huge amount of cash to be forced to risk, but some gamblers won't want to spend that much gambling per spin. Others will want to spend much more. If the number doesn't suit your gambling tastes, this slot isn't the one for you. With that said, we found the rewards offered for the meager bet to be pretty exciting.
The Power of the Wild
The Three Stooges symbol is the wild in this slot game, unsurprisingly, and it will triple any win that it's part of. This wild is a very powerful symbol for that reason, making it desirable and something that you'll want to see showing up as much as possible while you play this slot. It also unlocks the progressive jackpot, making it just a bit more exciting to see several of the symbols line up in a row.
Landing the Progressive Jackpot
Unlike other slots made by the same creators that made the Three Stooges slot, the progressive jackpot in this game is not randomly activated. Instead players must be lucky enough to spin five of the Three Stooges logo symbols out on the reels. The moment they do that they'll unlock the full progressive jackpot. With a progressive jackpot that's routinely worth 10's of thousands of dollars it's a pretty exciting prospect to think about winning, especially since you could win all that on just a $1.25 bet.
Scatter Bonuses
Each of the Three Stooges characters, Moe, Curley and Larry serve as scatters for this slot game. When you get three or more of them they pay out a fixed prize. Get three of the same character on the reels and you'll unlock the bonus game associated with that character. There are three unique bonus games that all come along with their own benefits and features.

Moe Money is one of the most desirable features that comes from three of the Moe symbols. The feature gives you 25 free spins with a multiplier of 2x, 5x or 10x throughout.

Larry's Loot is another top bonus feature that gives players an instant prize payout. The prize can be as large as $1,250 or 1000x your bet amount.

The Curly Cash bonus game gives out 10, 20 or 30 free spins and sets a 3x multiplier on each and every one of them.

The Three Stooges slot game is exciting for two reasons that we see. The top progressive jackpot is really generous for the low cost of the slot, and the bonus games offered are exciting, unique and they pay out pretty nicely as well. Overall if you're a Stooges fan you'll love the slot, otherwise you may or may not enjoy the features enough to fall in love with this slot, but it's worth a try either way.